CQM T&C's Apprentice at Worldwide Fruit Spalding Shortlisted in 2 Categories at The Manufacturer MX Awards 2015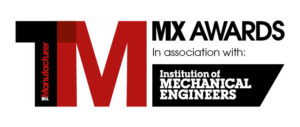 CQM Training & Consultancy Ltd are proud to announce that yet another of our Young Apprentices has been shortlisted for the nationally recognised 'The Manufacturer MX Awards 2015'.
Amber Wild, Print Room Champion Trainee at Worldwide Fruit, recently completed her apprenticeship training with CQM Training & Consultancy Ltd (CQM T&C) and has since reached the final selection for both 'Apprentice of the Year' and 'Young Manufacturer of the Year' at the prestigious awards.
Entrants to the awards undergo a rigorous judging process as Nick Hussey, CEO of Hennik Group – publishers of The Manufacturer magazine and organisers of the awards – noted "It's an incredible achievement to have been shortlisted." He continues: "These are the largest and most rigorously judged awards in the sector so any company being shortlisted will have provided evidence to the judges of a superior level of understanding of what makes modern UK manufacturing so vibrant and competitive. Manufacturing is very much alive and well and the shortlisted companies are exemplars of what advanced manufacturing looks like in terms of sustainability, innovation and world class competitiveness".
Andy Cheshire, Managing Director, CQM Training & Consultancy Ltd, commented "We are all delighted to have worked with Amber and it's a staggering achievement to be shortlisted in 2 categories. We wish Amber and Worldwide Fruit the best of luck for success on the night".
The Manufacturer MX Awards are an incredible reflection of the diversity, innovation and expertise that British manufacturing has to show. The awards aim to spread best practice, inspire others and show the important role UK manufacturing plays in today's economy. The short-list for The Manufacturer MX Awards 2015 revealed that over 50 companies have made the first cut across 12 categories.
The innovative, the efficient and the all-round epitome of excellence in UK manufacturing will vie to be crowned the best in their field at The Manufacturer MX Awards at Birmingham's ICC on 26th November 2015.
On Wednesday 4 March 2015, during a reception hosted by Margot James MP at the House of Commons, it was announced that the UK's two leading manufacturing awards – The Manufacturer of the Year Awards, run by The Manufacturer, and the Manufacturing Excellence (MX) Awards, run by the Institution of Mechanical Engineers, have joined forces to form The Manufacturer MX Awards (TMMX).
The Institution of Mechanical Engineers and The Manufacturer have combined their strengths to form a new, unique benchmarking competition that recognises manufacturing excellence.