Food & Drink
Arla Foods
Arla Foods is a global dairy company and co-operative owned by 12,600 dairy farmers about 2,800 of whom are British. The milk from Arla framers goes into a full range of fresh dairy products to the UK's major retailers and foodservice customers.
A Global Dairy in a Lean Environment
Project METIS: Effectively Delivering Technical Dairy Competence Skills & CI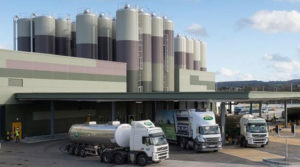 It has long been the desire of Arla Foods Global to develop the Technical Dairy Competence of its UK workforce. Simultaneously the company wanted to embark upon a programme of Continuous Improvement across its sites, embedding CI practices at an operational level. Chris Edwards, Arla's Technical Competence Development Manager saw the key was to develop a programme that combined all 3 of these elements; technical dairy skills, Lean and the right behaviours, all intrinsic to achieving Arla's status as defining the industry standard for dairy training.
It took 2 years to develop a programme that would fully achieve the high expectations set by Arla. During this time a unique partnership between the National Skills Academy for Food & Drink, CQM Training & Consultancy and Reaseheath College was created.
Early on the NSA and CQM T&C identified the Improve Level 3 QCF qualification in Food Manufacturing Excellence as forming the basis of the programme and an adult apprenticeship framework was selected to balance competency and knowledge elements.
"Strategically it is vitally important that Arla Foods is seen as a leader and innovator in specialist skills development in order that we can develop our technical talent across the business, thereby maximising individual talents to be able to produce great dairy products. Using the Employer Ownership of Skills pilot has meant we have been able to develop with the National Skills Academy for Food and Drink, CQM Training and Consultancy and Reaseheath Dairy college a credible suite of knowledge based resources in a dynamic learning environment."
Securing Employer Ownership of Skills Funding
Employer Ownership of Skills is a government led initiative aimed at returning the control of funding, training and skills delivery back to employers, so the system becomes driven by industry need. Employers know their industry and need the space to own the skills agenda. Consequently they are best placed to work with training providers in designing and delivering solutions that fit their business needs the most.
The NSA Food & Drink encouraged sectors within the industry to come together to apply for this limited government funding and to produce a strong bid with scale and impact. As the industry's skills body, the NSA collated information from a range of industry partners and wrote the bid in the aim of securing the funding that each business wanted. Arla successfully led the bid for the Dairy Industry alongside the NSA, securing several million pounds worth of funding for training across the Dairy Industry, putting ownership back into the hands of the employer.
Oakthorpe Success: Arla's Leanest Dairy on the Globe
Arla's Oakthorpe site wanted to improve their rating from one of their largest customers, prompting immediate action to improve the site's status within the group and to meet (and eventually exceed) customer expectations. Consequently it was chosen as the pilot site for the Dairy Food Manufacturing Excellence (DFME) programme. Using this innovative approach to training, Arla Oakthorpe focused on developing its technicians and team leaders.
CQM T&C were able to apply their intuitively designed diagnostic tool to carry out a detailed scoping at Oakthorpe. This provided a comprehensive understanding of the site's Lean/CI maturity. The DFME delivery was then tailored by CQM T&C to the specific requirements of the site.
The employees embraced the change in culture, and confidently applied their learning every day within the work place. The results speak for themselves and the teams at Oakthorpe have a lot to be proud of. With the right coaching and training they have dramatically improved the site's status, becoming Arla's leanest dairy on the globe.
"Deploying a significant technical training pilot plan has been a long term commitment and desire to add deep dairy technical skills within a lean environment here at Oakthorpe, a well established Arla site. It has pushed production targets in the right direction, met some significant challenges within retailer audits and produced a best site accolade for our CI targets."
Embracing a Lean Culture with Dairy Technical Skills
Sahid Ebrahim, Creamery Manager at Oakthorpe has been in the Dairy industry for 18 years, but his DFME training with CQM T&C is the first time he has been exposed to a Lean/CI way of thinking. The fact that a Lean approach is simultaneously being incorporated with Dairy Technical Competence skills training has enabled him to fully embrace a whole new way of working and apply improvement processes across the Creamery. In particular, Sahid's implementation of Visual Management has been a resounding success. As he comments, "Putting up visual management displays around the Creamery has enabled the teams to now see the processes they need to follow clearly. Correct procedures are now clearly displayed around the creamery saving time and minimizing waste whilst avoiding poor quality product from leaving the creamery." As Sahid explains "The people here are really passionate about what they do and to do it to the best of their ability. The DFME training enables each of us to do our best, not just by making a one off improvement but to come to work and make improvements on a daily basis ."
Nadeem Malik DFME training is "A Big Win for Us"
Nadeem Malik is a team leader at Oakthorpe and confirms that the training has highlighted certain key aspects that were not enhancing the business. Previously things were done separately, in isolation between departments, creating a 'silo' effect. However DFME training has provided much needed inter departmental awareness, particularly between the technical and processing arms of the Dairy. Root Cause Analysis, for example, used to be led by co-ordinators at a senior level of management. Now, people participating in the DFME are coming up with RCA ideas themselves and receiving acknowledgment for those improvements whilst seeing the benefits for themselves on the shopfloor. Nadeem Malik is a team leader at Oakthorpe and confirms that the training has highlighted certain key aspects that were not enhancing the business. Previously things were done separately, in isolation between departments, creating a 'silo' effect. However DFME training has provided much needed inter departmental awareness, Nadeem can see that, "thanks to the DFME training we no longer carry out quick fix solutions for problems. We diagnose the real issue and fix it properly for the long term. A big win for us. People now have the right means and tools to put their point across effectively and appropriately in order to make the right impact and get the right response."
Continuous Sustainable Improvement
Arla Aylesbury: Setting the Standard in Dairy Training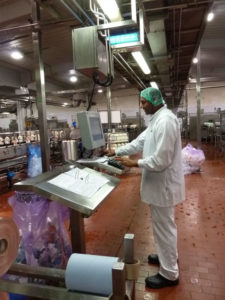 Arla's state of the art new site in Aylesbury has set its sights on being the most skilful dairy on the planet. With its aim being to set the industry standard in dairy training, Aylesbury intends to deliver Lean training to its entire 350 strong workforce whilst tying this in directly with specialist Technical Dairy Competence skills, based upon an employee's area of work.
The DFME was created to fulfill the brief set by Project METIS and so far has been a resounding success with many employees well on their way to becoming some of the first in the country to receive this nationally recognised qualification.
As Jo Taylor, Aylesbury's Site Director commented "We knew very early on in planning that the challenge at Aylesbury as the World's largest Fresh milk processing plant would need dedicated enthusiastic, team players who need to be technically competent. This would be a massive training and organisational challenge. Some 80,000 training hours prior to start up were planned and executed. The Team have worked relentlessly in developing our colleagues and it is paying back, not just in production targets but also with the idea that Arla Foods is really committed to its people and producing great tasting and nutritious dairy products."
Testament to this is that Aylesbury was able to start production earlier than predicted and it will continue to attract and recruit the best employees to maintain its underpinning ethos of being the most skilful dairy on the planet.
"Having successfully designed, built and commissioned the World's largest Fresh Milk dairy it has been very obvious that the initial early planning we did around developing our technical skills prior to opening has enabled Arla Aylesbury to start production earlier than predicted with a production plan that is ambitious going forward to full capacity. Having the right competent people has played a significant role in this momentous success for UK manufacturing."
Flushing Out Waste – Bottom Line Savings
Peter Kane, Intake describes himself in his own words as not particularly academic. Despite his initial concerns about DFME, he soon realised the majority of the programme focused upon the practical implementation of the new Dairy Technical Competence and CI skills he was learning.
By identifying and leading an improvement project which utilises these new skills, he has been given the opportunity to really make a difference to the business and excel in the programme. Peter was able to recognise a process that had the potential for improvement and prevent the company from creating unnecessary waste.
Now with the ability to capture and measure reliable data and present his evidence in a convincing and confident manner, Peter demonstrated how the Dairy could save £70,000 per annum by reducing the amount of water used to flush out non-computerised tankers upon delivery of milk to the site.
As Peter comments "DFME has allowed me to be very practical to discover very practical solutions to very real issues. I have been given the opportunity to shine through this training, which I would not have been able to do through a more academic route."
Delivering Specialist Dairy Training to the Industry
CQM Training & Consultancy Ltd are at the forefront of creating and delivering this exceptional training programme designed specifically for the Dairy industry. The Dairy Food Manufacturing Excellence programme sets the standard for developing both CI/Lean awareness and Dairy Technical Competence skills coherently and seamlessly. It will ensure your workforce is equipped with the ability to confidently drive your business forward to achieve greater success, simultaneously eliminating waste and making bottom line savings.
"What followed was the creation of what must be one of the uk industry's most successful programmes of Lean/CI & technical development that took over 2 years to perfect."
Chris Edwards,
Technical Competence Development Manager, Arla
Dairy Food Manufacturing Excellence
Delivered under the project metis brief: the greek goddess of skills & crafts delivered cunningly
Key innovative tool of development for arla technicians & team leaders
Creation of an industry wide recognized qualification for employees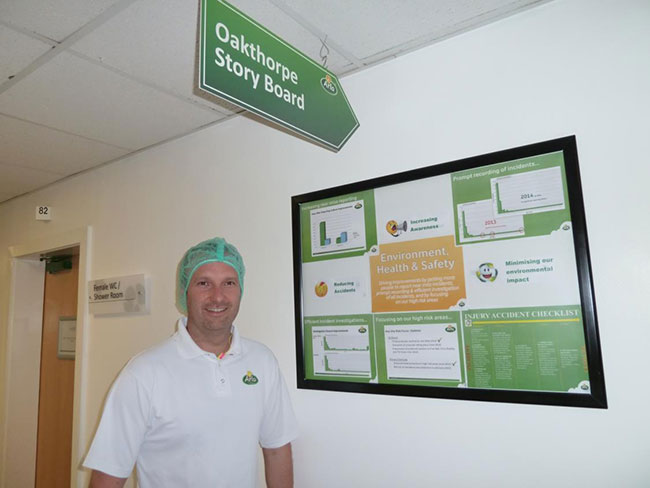 "Having the ability to link their work based activity directly back to what they are learning, & understanding how to adapt this learning has generated a great response and feedback around the DFME"
Nick Kent,
PTD Manager, Oakthorpe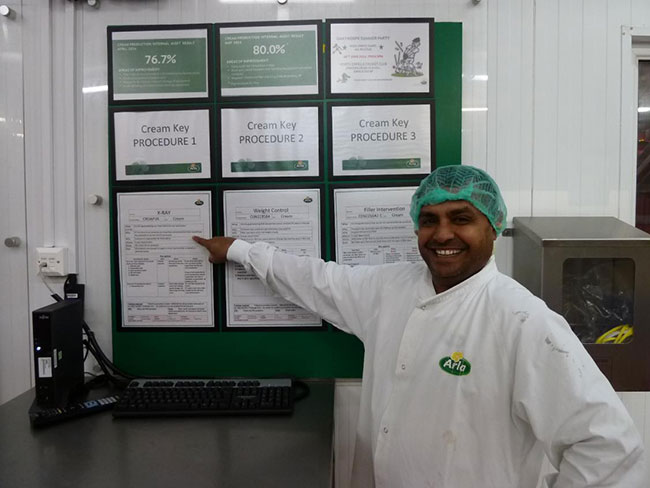 "I found the training very exciting and I wanted to implement it straight away in my area. My big question to myself was 'Why can't we improve the way we work?' We spend more time here than we do at home."
Sahid Ebrahim,
Creamery Manager, Level 3 DFME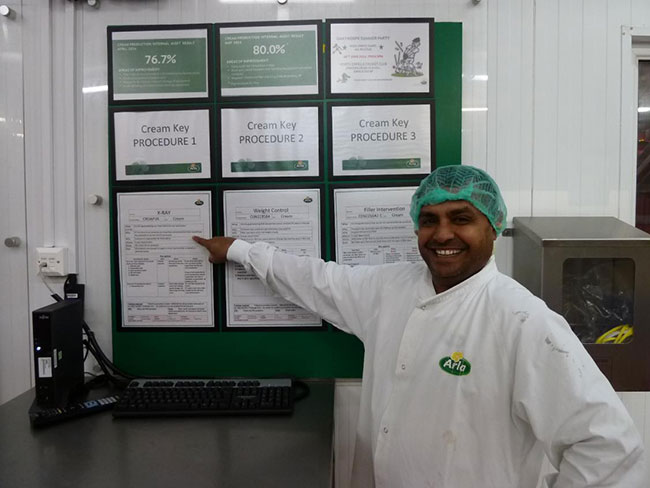 "Anything that makes your life easier or more efficient has to be the best way of working. it's all about the must win battles ."
Peter Kane,
Intake, DFME Level 3