Using National Apprenticeship Week 2022 as an opportunity to reflect on recent activity and give thought to how we help build for the future
by Andy Cheshire, Managing Director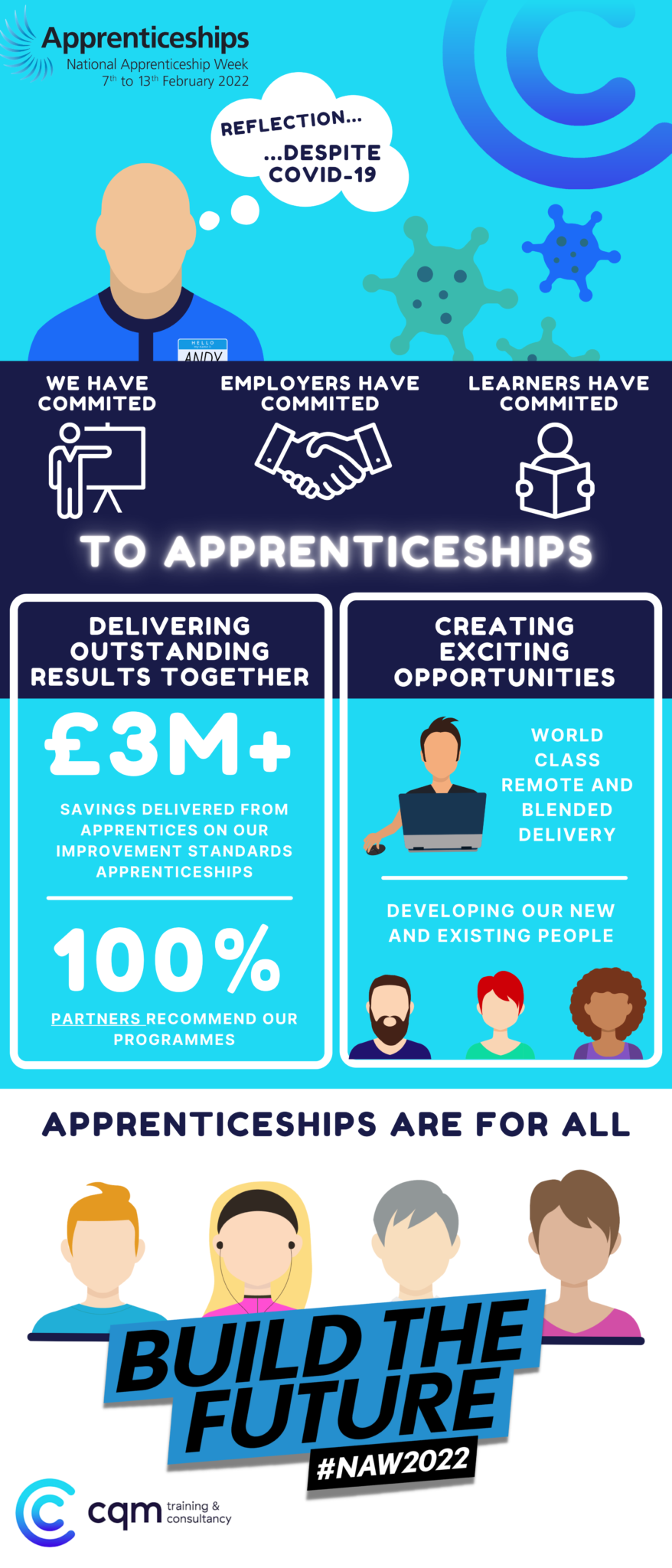 I am excited about the coming months and years for CQM Training & Consultancy and our partners and it is wonderful to step back and use National Apprenticeship Week as a reflection on recent activity.
Many great organisations we work with have been steadfast in their commitment during the pandemic to ensure their apprentices are getting the support they need to complete their programmes and build for future performance. I think those apprentices have really appreciated that the commitment has continued to be there, even though it has been difficult for many in terms of release. I am now seeing a real desire to complete apprenticeship programmes and apply all that they have learnt in their current roles, with many gaining promotion due to their new skills and approaches.
We have seen apprentices on our improvement standards (Lean Six Sigma) apprenticeship programmes deliver over £3m in savings for their organisations even during what has been a tough time for many, plus of course gaining a skillset to be able to continue to deliver that year on year on year – showcasing true continuous improvement and sustainability.
We are seeing an emerging trend of wider organisational programmes which encompass strategy development, apprenticeships and shorter, bitesize programmes, all aligned to drive organisational performance and personal development. For example, in 2021, CQM launched our Authentic Leader flexible development programme, which has been very well received and has helped organisations like Robinson's Brewery and Monarch Furniture realise leadership potential amongst their existing teams. For CQM, I am really pleased that we have been able to continue to invest in CPD for our own staff and, with exciting new recruits to the team, we can seize the opportunity to work with our new and existing partners to keep delivering world class training programmes and Apprenticeships.
We continue to look at doing everything we do better, always challenging best practice. During the heights of the pandemic, we unlocked the potential of remote delivery, which in turn opened the door for new opportunities. For instance, those organisations with fewer employees available for release as well as being able to offer a more blended, tailored approach. This enabled us to forge ahead with new programmes such as the Food Technologist Level 3 apprenticeship, which has been an enormous success.
We have employer value at the heart of all our decisions and this was reflected in our recent employer survey where for the first time ever we achieved a 100% recommendation for our programmes. We work very closely with end point assessment organisations (EPAO), like DSW and OAL, to ensure we are aligned, to benefit our learners so they are ready, prepared and confident for their assessments. We are building on our portfolio and launching exciting new products in 2022, for example Quality Practitioner Level 4 and Process Leader Level 4 in apprenticeships and a suite of high impact short courses in the personal development sphere.
So, overall, I finish as I started. I am excited about the coming months and years for CQM Training & Consultancy and our partners. There is no better time to contemplate than National Apprenticeship Week, as we think about how we, together, build for the future.
You can learn more about National Apprenticeship Week 2022 on the Government website here. We also welcome any queries you may have or, if you are interested in discovering more about the programmes we offer, you can get in touch with us via our Contact Us form below.